Sit down, get comfortable and put on your 3D glasses. Open your eyes, open your ears and open your imagination – this is 3D.
Digital  3D technology brings you a wonderfully immersive experience: stunning 3D imagery and crystal-clear sound that puts you right at the heart of the film.
WHAT'S SO GREAT ABOUT 3D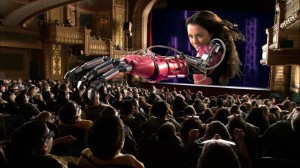 When you watch a film in 3D, you feel as though you've stepped inside it. Superb image quality – crisp, bright and ultra-realistic – and stunning sound give you the impression that the story's unfolding around you.
It's fun: images pop out of the screen right in front of your eyes. It's amazing: your senses are heightened as the film comes alive. It's immersive: the film surrounds you. Get into the films with Empire 3D.
You will use our 3D-Tech active 3D-glasses,  by no return or damaged glasses we have to charge u a fine of $ 45,- for a pair of glasses.
Our 3D-tech 3D-glasses are designed for Empire Cinema use only they cannot be used for passive Cinema Systems and al kind of 3D TV's for home use.